Steel Windows and Doors:
Crittall: the Ultimate in Steel Windows and Doors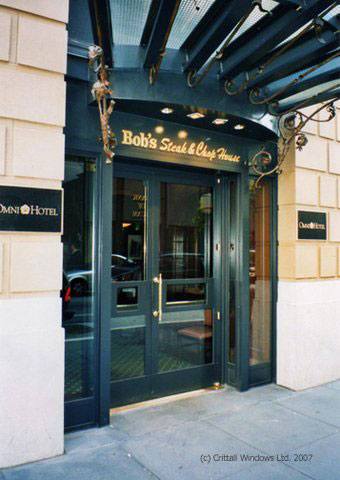 M.F. Murray Companies are proud to represent Crittall Steel Window and Doors in California and the Western U.S. Crittall is the oldest and largest manufacturer of steel windows and doors in the world. Crittall products are not only beautiful, they are manufactured to the highest standards in the industry. Their motto is "Nothing looks better, Nothing lasts longer."
Unique Hot Dip Galvanizing Process Eliminates Corrosion
Crittall uses a unique hot dip galvanizing process, ensuring the finished products are completely protected against corrosion. Other steel window manufacturers use electroplate galvanizing which results in only a fraction of the thickness of hot dipped, and therefore not appropriate protection for exterior use.
Count on us to supply you with the right steel windows and doors for maximum custom capability and responsiveness to your project requirements. Our 25+ years+ of experience, technical expertise, and product knowledge enable us to provide you with the most comprehensive range of hot-rolled steel windows and doors. We can also recommend glass and glazing installers.
Quality Installation is One of Our Top Priorities
We are affiliated with a team of licensed installers who are highly skilled and financially stable. Their work will meet the highest quality and safety standards.
About Crittall Steel Windows and Doors – an Illustrious History:
Established in 1849, Crittall windows were a feature of the promenade deck of the RMS Titanic.
Landmark projects around the globe include the Boots D10 Building and the Hoover Building in the UK; Walter Gropius Bauhaus in Germany; Cordonniers Peace Palace in The Hague; and Albert Kahn's Ford River Rouge Plant.
Crittall's ISO 9001 certified factory is unparalleled in its engineering and production capacity. The company's in-house test facility and finishing plant are among the most advanced in the world.
Crittall makes every effort to use environmentally safe and sustainable resources and where possible, to manufacture products from materials which are capable of being recycled
Crittall minimizes the creation of waste, and disposes of all wastes though safe and reasonable methods.